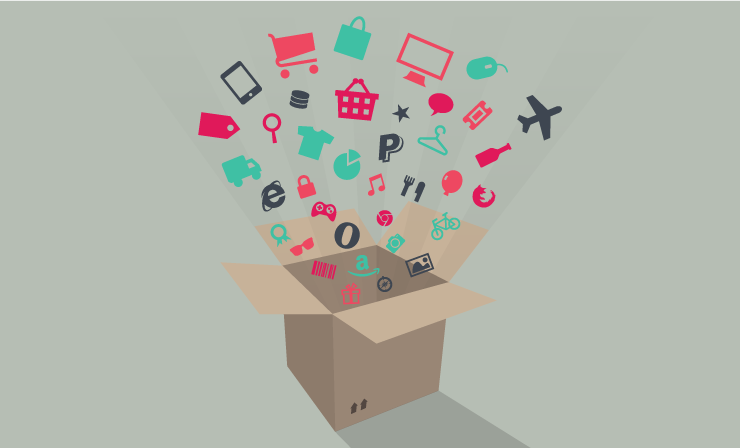 Having spent over 10 years in the eCommerce business it's fair to say that we've learned a few lessons along the way. For one thing, there's a huge difference between constructing an online shop to display and sell products, and having a rounded eCommerce solution that uses a variety of on and off-site techniques to deliver a real return on your investment.
Effective eCommerce is a sophisticated business, drawing on a wide range of expertise and knowledge. So getting the team to narrow everything down to 10 points wasn't easy. But here goes - here's our summary of the main things we've learned in 10 years of eCommerce.
1. Simplicity is the key to conversion
It's easy to get carried away with the urge to make things look beautiful. And while the appearance of your site helps project a positive image of who you are, the process of finding, reviewing, selecting and purchasing products absolutely has to be as simple as you can make it.
Partly this means questioning the purpose of everything you display on-screen. Does it really add anything to the experience or is it just creating a distraction? It also means looking at location, colours and typography so that important information and navigational links are easy to find.
Darren Hunt (Head of Design) offers a lot of valuable points on de-cluttering your site and simplifying the eCommerce process in this article: Simplicity is key to conversion.
Naturally there's a lot of focus on the checkout. If people get confused by the process or distracted by unnecessary content or navigation options they are highly likely leave without buying. If they can't find or understand what they need to know about your delivery costs, returns policy or payment methods, you can expect a very high rate of abandoned purchases.
2. Trust is the foundation of success
You don't buy things from people you don't trust. And establishing trust online is so much harder than face-to-face, particularly for first-time visitors to your site. To make the point bluntly, any eCommerce site that is not built with establishing customer trust and confidence as a core design objective will never achieve the levels of conversions and sales that it could.
Graham Youd (Business Development Manager) takes you through the main components of trust building in this article: Trust, Confidence and eCommerce Conversion. The main questions to ask yourself are these:
Does your site look and feel professional? Cheap looking design and images will probably leave people wondering what sort of business they are dealing with.
Is your commitment to care for your customers' personal data explicit and prominent?
Can customers easily find and read your terms and conditions and returns policy? Is your commitment to delivering excellent after sales service clear, sincere and easy to read?
Are all of your charges transparent from the outset? Never look as though you are trying to sneak some extra charges in at the end of the transaction. Be explicit and up-front about delivery costs and all other charges.
Do you use at least one recognised trust seal on your site and in your checkout? We've seen this have a significant impact on conversion rates.
Are you making the most of 3rd party reviews of your business and your products? We've integrated review platforms such as Feefo on many of our clients' sites and measured the impact on conversion rates. Nothing does a better job of creating the 'confidence to click' than unbiased reviews that are outside the control of the eCommerce business.
3. You can never know everything
OK, I know this is supposed to be about all the things we've learned rather than what we don't know. And we've certainly got a good level of insight into features and approaches that are most likely to deliver results. But the fact remains that each business is different and each set of target customers is different.
Not only that, but the same person will behave differently on a site that they know well compared to one they are visiting for the first time.
All of which adds up to a multitude of possible variations for the way that people will interact and engage with your site that you cannot possibly predict with absolute certainty. So that's why we experiment, test, measure and refine - continuously looking for ways to keep nudging conversion rates and sales in a positive direction.
Here are a couple of articles that look in more detail at techniques you should be using to test your site. These talk you through the principles of effective A/B split testing and session logging, and then look at using content experiments in Google Analytics.
4. Ignore emerging trends and technology at your peril
When the iPhone launched in June 2007, how many people really foresaw how quickly smartphones would come to dominate our lives, or the emergence of tablet computers? How many would have predicted that within six short years mobile device traffic would exceed website traffic from PCs, or just how many people would be quite happy to use a mobile phone to make purchases?
Successful eCommerce means understanding what's coming so you stay one step ahead of your competitors. And yet, despite the fact that people want to use their mobiles to choose what they want to buy, and are increasingly comfortable with using a mobile to complete the purchase, so many online shops fail to offer these customers a great experience.
Responsive websites are becoming indispensable. And in eCommerce there is so much more to this than just ticking the 'my site looks OK on a mobile' box. Shoppers interact differently using a touchscreen and your site has to allow them to interact in the ways they want to. This article looks at some of the issues relevant to tablet users in more detail
Your testing programme needs to investigate conversion data on different devices to highlight specific usability issues. And you should be watching emerging developments like Google Wallet to make sure you offer your customers a more convenient shopping experience than your competitors.
5. Your products don't sell themselves
Your eCommerce site is attempting to replicate, online, a physical and interactive buying process and experience. Potential buyers want to have the best possible idea of what your product looks like and its quality. They'll almost certainly have questions that need to be answered, clearly, before they feel happy to make a purchase.
Yet they cannot hold the product and there is no shop assistant on hand to answer their questions. You need to get inside their heads and offer whatever images, video and copy they are likely to need. You also need to think about whether live chat would make a difference and, once again, look at how product reviews and ratings from other shoppers will influence their decisions.
You can read more about the characteristics of highly converting product pages in this recent article.
5. Never give up on a sale
In all probability, 70% or more of the people who start a shopping cart on your site won't go on to complete the purchase. What you choose to do about those people can have a huge impact on the performance of your business.
Effective tracking and the use of abandoned cart emails could improve your online sales by as much as 10%. There are plenty of success factors to consider here including timing, subject lines and the content you include in the email body. But for most eCommerce businesses there is more than enough potential revenue on offer to make the effort worthwhile.
Putting items into a shopping cart indicates there was a serious consideration of purchasing a product – that has to be a good starting point for completing a sale. Remarketing through the Google Display Network also delivers targeted and timely reminders of the products they were considering.
One of the simplest things you can do is to collect the email address as early as possible in the checkout process so you know where to send the follow-up.
6. It's not all about your site
Unless you're a large, established and well-known brand, restricting your eCommerce activity to your own online shop will probably mean you are missing out on significant sales opportunities.
There are many channels that businesses can use to get their offer in front of more people. For example, you can leverage the scale and search presence of sites like eBay, Amazon and Play.com to reach a wider audience than you could hope to do alone; and you can use affiliate marketing to reach people who are likely to be interested in what you sell.
Effective multi channel eCommerce can be a great way to establish your brand and build online sales more quickly. And there is a wide variety of offline techniques such as SMS messaging that can increase revenue too.
7. It pays to be social
Returning to our theme of being nimble and adaptable, who'd have thought 10 years ago that Facebook would have grown into what it has become? And who thought we'd be using it to sell things?
Social media is a fact of our customers' lives. Successful eCommerce businesses have embraced it enthusiastically. The power of social networks is their capacity to help us find and engage an audience, to help us listen to our customers and to build loyalty to our brand. Once you've achieved that you can also use them to do a bit of selling – but only when you've earned the right and won the permission of your audience.
Social media channels open up new and exciting possibilities to offer content to our customers that they can share, comment on and contribute to; building a community of advocates for our brand, and a source of continued traffic.
And don't forget that social media as a business tool is still in its infancy. It is already a powerful, and arguably essential way to get more visitors to your site. And in the future, our ability to get found in searches will be increasingly influenced by our presence on social networks and what people are saying about us.
8. Navigation is so important
One basic feature we see over and over in successful eCommerce sites is beautifully simple navigation. Well-planned product categories and subcategories, effective and logical filters, sensible pagination and usable search options all have the most fundamental possible effects on the experience people have when they visit your site.
It doesn't take a genius to work out that making it easy for people find what they want is good for business. Here are more details and some examples of great eCommerce navigation to help inspire you.
9. eCommerce is the sum of many disciplines
People often have a narrow view of what eCommerce involves, focusing on design flair or technology and coding expertise. But to harness its full potential you have to understand marketing, psychology, business processes, inventory and accounting systems, databases, Google Analytics, social media, mobile technology and a host of other things.
Every successful eCommerce solution we've delivered in 10 years has drawn on a range of expertise and knowledge far wider than just the skills needed to build great looking websites.
10. The eCommerce solution can never be stronger than the underlying business model
Perhaps I'm saving the most fundamental point till last. The best online shop in the world cannot fix a flawed business model or make an unattractive proposition attractive. If people don't want or need something they won't buy it, however well you present or market it.
Our eCommerce platform will shortly clock up over £50m worth of sales. And if we've learned one thing in achieving that milestone it's that a successful and profitable eCommerce solution always starts with challenging the assumptions and models that our clients have created. Does the historical data support the projections and the objectives, and is the proposed development based on a realistic vision supported by evidence? If you are looking for an eCommerce agency for your new project or to help with the redevelopment of your current site, please get in touch.
Like I said, boiling everything down to 10 points was hard and there is so much more we could have said and we'd love to hear your thoughts as well, so why not drop us a comment below.