Is your business ready to go online?
On the face of it a simple enough question. If you're already selling products successfully you know there is a market for them and you know how to sell them. The chances are that you already have a website that shows some of your products and you're taking sales over the phone.
Having an eCommerce site will simply let you get those products in front of more people; it will also automate the buying process so you can sell more.
If only eCommerce services were really that simple. In my experience the challenges of taking a physical business online break down into 4 areas:
Understanding the psychology of online shoppers
The mechanics of eCommerce
Scaling up the business
Getting noticed
Psychology - online is different
An established retail business will often have loyal customers. They come back to you because they like you and appreciate your service, they know they can get helpful advice, or sometimes they just like being in one of your shops. If they pay a bit more to experience this it's not a big deal.
The new customers you seek to gain online have none of that history or experience. Unless you are selling something unique or exclusive, eCommerce is price-driven. People can easily compare your prices to other sites selling something similar and ultimately they will vote with their wallets.
We've found that even with an exclusive online retailer like The Merchant Fox, people like to see the price up-front. Providing this information up-front increases sales even though people can't find the same products elsewhere. It's something about the psychology of shopping online.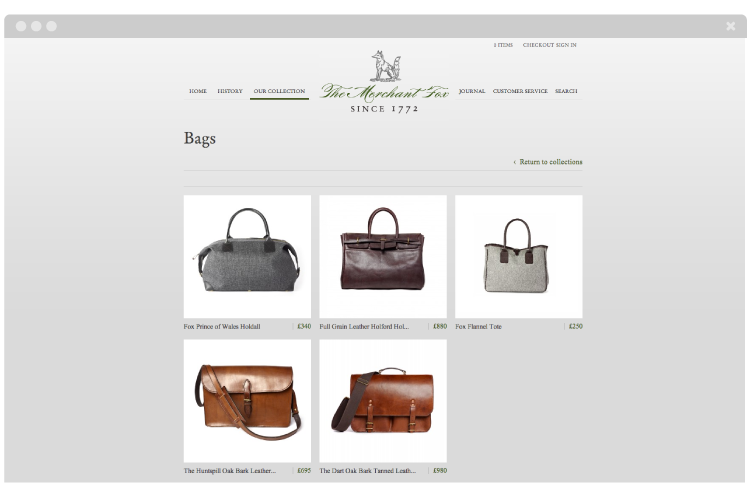 Blending online and offline
Your business plan will almost certainly have to factor-in significantly lower prices and lower margins if you have competitors and you want to sell online. Now imagine what that means for the prices in your physical shops. You might say that physical shops have higher overheads which justify higher prices and you'd be quite right. But good luck explaining that to a customer who has seen a lower price online.
Never imagine that you can replicate existing margins online. And always understand that this will have an impact on your existing business.
The role of physical shops in an eCommerce business is fundamentally different compared to a business that doesn't trade online. Your physical shop becomes more of a showroom, a centre for providing advice and a way of promoting your 'brand experience'. You need to understand where shops fit into the new business model and adjust your financial objectives for them accordingly.
Mechanics - the buying process
Moving a business online means stripping away many of the elements of a traditional sales process. Being able to touch and hold items, personal interaction, and familiarity with how we conduct a transaction in a shop are all gone. The confidence that comes from your shop having a physical presence is no longer there.
How does an eCommerce solution compensate for all of those missing elements? Welcome to the fascinating world of Conversion Rate Optimisation (CRO).
The way you display your products, how you help people to find and select them, what you say about them and even the most subtle change to what you display on screen, can have a massive impact on conversion. We've spent over 10 years mastering these factors and we still learn something new every week through experimenting and testing.
Just having attractive products at competitive prices is no guarantee of success.
Take the simple process of paying for goods. In a shop we all know what to do. On an eCommerce store it needs to be equally obvious. Anything that looks confusing, onerous or even suspicious will stop people completing the process.
Setting up an online store is one thing. Configuring it to convert as many visits as possible into sales is something else: something that involves science, experience and testing.
Deliveries and service
When people buy something online they want to get it as quickly as possible. Delivery arrangements that take too long, seem inconvenient or are unclear are guaranteed conversion killers. Researching the most appropriate solution, finding the right partners, negotiating contracts and then factoring all of this into your pricing is a major task.
You have to think about all of this up front. You also have to decide what order value might qualify for free delivery to encourage up-selling. The financial modelling for deliveries can be complex and has profound implications for your business plan and prices.
Also, what type of customer service will people expect both before and after the sale? Are you planning to support this with a phone help-line, email or live chat? Again, there are significant cost implications that need to be thought through and planned.
Metrics
Every eCommerce solution will have performance measures that it needs to monitor. Some of these will be fairly standard goals that can be set up in Google Analytics and some will be highly specific and related to key objectives in your business plan.
You have to be realistic about the effort involved in deciding what you need to measure and about the time it will take to analyse the results. Who will be responsible for monitoring and reporting? And what budget do you need to allocate to continuous improvement to increase conversion rates?
When you trade online the lower margins mean that every lost sale matters and every pound spent needlessly on inefficient processes is critical.
Scaling up the business
People almost always take their business online to increase sales volume. Are you ready to handle success? What sort of increase are you projecting? Three times, ten times, a hundred times? The projected increase in sales will have implications for many areas of your business. You can't afford to work out what these are and find solutions while you are managing a rapidly growing business.
Getting traffic to an eCommerce site is a complex and rapidly evolving science. To maximise traffic you have to understand Search Engine Optimisation (SEO), social media, content marketing, paid search, email marketing and probably multi-channel marketing through comparison engines and online marketplaces.
And it's not just the obvious stuff like warehouse space and having enough staff to pack products into envelopes and parcels. How robust is your inventory management? Could the systems you use cope with the extra volume of transactions? Have you ever tested this?
Will you be in a position to give customers an instant answer when they ask for a progress with an order or delivery? And your new customers may be shopping during the evening and at weekends. If they need answers to complete a purchase, will you have anybody there who can help?
These are some of the questions we typically ask our clients as we stress-test their business model, assumptions and systems. Without this rigour we would leave them running the risk disappointing their new customers and rapidly getting a bad reputation that they might never recover from.
This is why relationships are so important. Before taking on an assignment we need to be confident that our clients are receptive to having their models questioned and that they value the dialogue as much as we do.
Getting noticed
I sometimes wonder whether people have watched Field of Dreams once too often and have swallowed the mantra of build it and they will come. They won't!
Getting traffic to an eCommerce site is a complex and rapidly evolving science. To maximise traffic you have to understand Search Engine Optimisation (SEO), social media, content marketing, paid search, email marketing and probably multi-channel marketing through comparison engines and online marketplaces.
Social media is, in itself, a vast topic. Analysing the networks that will be most productive, and understanding the rules, conventions and the most effective tactics for each needs a concerted effort, assigned responsibilities and a methodical approach. It's a lot of work, but few eCommerce businesses can hope to survive without a comprehensive social media strategy.
And, of course, you have to meet the needs of the growing number of people who shop using tablets and mobiles. They demand, and increasingly expect, a different user experience built around the way they use their devices.
I could add to this a whole host of techniques to recover 'lost' sales through abandoned cart emails and remarketing display ads. You can find articles about all of these on our blog and they are all tactics that you need to understand.
The point is that eCommerce is about so much more than building an online store. Going online is something that will touch every area of your business from accounts to HR and will have profound implications for everything you do. We design eCommerce web solutions that help you through that process.