Do you run competitions on your eCommerce site? Do they always deliver what you'd hoped for? Sometimes creating the competition is the easy part - the challenge can be getting people to notice it and take part - and to achieve whatever business objective you were after.
Competitions can be a valuable addition to the eCommerce toolbox. They're a great way to drive new traffic to your website and promote particular products. They're often also used to help build loyalty, grow your mailing list and boost your following on social media. They are often a cheaper way of getting to a mass audience than print or broadcast advertising.
The main purpose of a competition is usually to drive additional traffic to your site or to build a social media following. But dont forget your regular visitors and people who find you through search. Include an eye-catching and prominent link to the competition on your home page
They do, however, take a bit of effort to set up; so you want to make sure you take full advantage and do everything you can to promote them properly. Here are our top suggestions for promoting your competition and making sure your business is always the winner.
Choose your prize carefully
The first element in a successful competition will be choosing the right prize. There are hundreds out there at any time which offer the obvious and easy stuff like iPads and Kindle Fires. If you want to stand out, offer something less obvious and something that that will appeal to your target audience.
And I'd always recommend giving away something that's relevant to your brand and which reflects the sort of thing you usually sell. This will keep you out of trouble with social networks (see later) and will give you a better quality of site visitor - people who are actually interested in your products!
Prizes such as discount codes for free delivery or money off on your store can often generate a good ROI as you're either generating another sale the customer's just never used it so you aren't out of pocket at all - It's win win.
Facebook
Social media channels are a great way to promote your competitions through the extended networks of your followers. But you have to be careful not to infringe the rules and get your page shut down.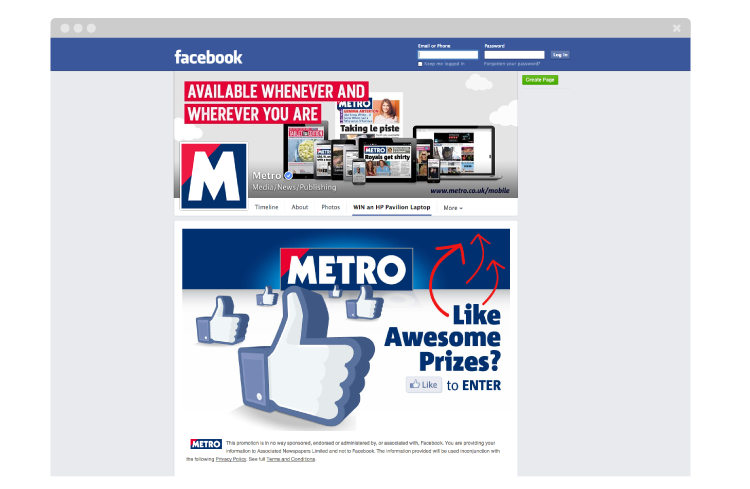 Fortunately Facebook recently made it much easier to run and promote competitions through Facebook Offers. You no longer have to build an app and it's fine to ask people to like an update, comment on an update, or upload photos to your page in order to enter. But you mustn't ask people to share your competition on their timeline or tag somebody in a photo in order to enter as this is still against Facebook's terms and conditions.
Having relaxed the rules a bit you can probably expect Facebook to be much stricter about enforcing the ones that remain, so infringe them at your own risk.
Google+ will allow a link to your competition from your Google+ page and that's about it.
Twitter
Competitions are often used successfully to grow a Twitter following. Twitter is quite happy about competitions that ask people to tweet a particular update or to follow you in order to enter the competition. You can also run competitions where people enter by tweeting an update with a specific hashtag.
The rules are quite simple but you need to be clear about them before you set up the competition. You can see Twitter's competition guidelines here. Make sure you are seen to be actively discouraging anyone from having multiple accounts to enter several times and you definitely want to avoid a competition that encourages people to retweet a message over and over; this will probably annoy your followers as well as Twitter.
If you already have a large Twitter following you probably just want to use the platform to publicise your completion so that people click on a link back to your site. Keep your tweet with the link as short as possible so that it can be retweeted without busting the 140 character limit. A good link shortening program like Bitly will also let you track your tweets so you can see what messages and timings get the best results.
As with Facebook, Twitter is keen to see that there is some kind of link between the prize and the things that you normally sell.
Portals
There are several competition portal sites that are used by a huge community of regular 'compers'. I won't attempt to list them all here; just Google 'online competitions' and have a look through the links to find the one that is likely to work best. The value of these portals is often to 'seed' your competition with the first few hundreds or even thousands of entries which you can then multiply through social media.
It usually doesn't cost anything to have your competition listed but it can take a couple of weeks - so make sure you plan ahead.
Forums
A really easy way to promote competitions is through forums; the Money Saving Expert site is really popular and attracts loads of visitors. There are usually rules that you need to follow so that you don't get blacklisted, but if you are running a fair competition that delivers what it claims you are unlikely to have a problem.
The only thing to be aware of is that people often use these sites to enter many competitions (sometimes hundreds each month).
I'd recommend having a good look at the open rates of any follow-up emails to contacts acquired through this route to see how effective it is at creating worthwhile visitors.
Affiliates
If you already market your business through affiliate sites, these channels can also be used to promote your competition. Again the prize should be relevant to the affiliate site and likely to be of interest to their visitors. You can also look out for specialist blogs that are likely to be read by people who would be attracted by the prize - another reason you want a prize that is relevant to your business!
Co-Promotion
If your site is retailing products manufactured by a well-known brand there could be an opportunity to get that brand to help promote your competition. Even if it's in a relatively low key way by just tweeting a link to your competition page, it could still get you access to a wider network. Worth a try if you do it professionally and make it clear that your competition doesn't cheapen or undermine their brand in any way.
Sometimes brands are quite happy to donate the prize too - so long as your eCommerce site and your competition look like the sort of thing they would want their brand associated with.
Rewarding loyalty
The main purpose of a competition is usually to drive additional traffic to your site or to build a social media following. But don't forget your regular visitors and people who find you through search. Include an eye-catching and prominent link to the competition on your home page.
This gives new organic search visitors another reason to spend a bit longer on your site. It might encourage them to follow you on social media and to come back to your site in future. And you'll also get their email address when they enter.
Get your followers to help
Always try to leverage as much support as possible from your competition entrants and social media followers - get them to spread the word for you. Give them a simple link to click to tell their friends about your competition on Twitter and Facebook. If they need persuading then an additional free entry or opportunity to win a subsidiary prize often does the trick.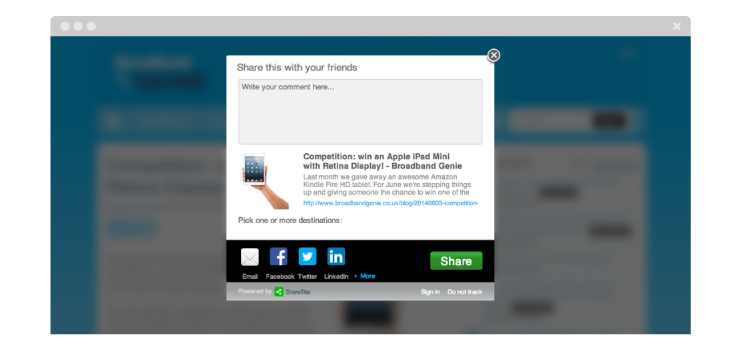 One motivation for running a competition might be to reward your regular visitors and customers. Competitions can be a powerful way to build loyalty and can provide a reason for keeping in touch with customers through email. Customers who already feel loyalty towards your brand will probably be quite receptive to sharing details of your competition through social media, so long as you make it easy and 'sociable'.
Search Engine Marketing
Did you know that there are 150 monthly searches in the UK for the term 'win laptop'? There is a community of 'compers' out there who are actively looking for opportunities to win attractive prizes so it's worthwhile spending a bit of time researching relevant keywords, optimising your competition page and possibly investing in PPC adverts. 'Compers' seem to be a bit of a community so one visit will probably draw in others - even if the traffic numbers for an individual term don't look high.
There are many ways that competitions can help build your eCommerce business and I'm a big fan of them. Hopefully these suggestions will help you get a winning return for your efforts.
Happy 'comping'!